Address
828 Broadway
(at 12th St.)
New York, NY. 10003-4805
Before I visited New York City last week, for my 18th wedding anniversary, Andye told me about this bookstore I just had to visit. Well, to make a long story short,
I saw and I conquered
!
This amazing bookstore has many levels to it, on every level is such a vast/wide selection of books from very old collectibles to very new ARC's (YES, you read it right!) They have a pretty big selection of ARC's. And they are practically giving them away. I just got lost in the basement, I have never seen such cool, old books. I was in heaven. If I had to guess, I would say it is FIVE TIMES BIGGER than any B&N or Borders. I haven't even started on the YA section... IT. IS. AMAZING!!! Not only can you buy a brand new book fresh on the shelf for way cheaper than Borders or B&N, but you can buy a previously read copy for about five bucks .
I bought Andye a very nice, brand new, hardcover
Tell Me a Secret by Holly Cupala,
$8 = SCORE! It was the least I could do, she watched my five kiddos while I was gone. That's $1.60 a kid, not a bad deal if you ask me. It was a very win/win situation on both parties in my opinion :) Don't worry, I bought her lunch when I got home... does it count if we shared a meal??? :O)
YES, YES, YES, you're not seeing things, you read the title right! I am going to give away some books I found at the The Strand Bookstore, ALL OF THESE BOOKS ARE ARC'S (Advanced Reading Copies).
First Place - First choice of four books!
Second Place - Second choice of
three
books!
Third Place - Third choice of
two
books!
Fourth Place - Fourth choice of one book!
*As always I will use
Randomizer.org
to see who my four winners will be!
**OPEN U.S.A & International
*** MUST BE A FOLLOWER!!!
****ENDS DECEMBER 1, 2010
Who's This Hot Strand Employee?
Robert Pattinson plays Strand employee Tyler Hawkins in the movie, Remember Me
. The Strand is featured in the film during a pivotal scene between Tyler and his friend, another Strand employee.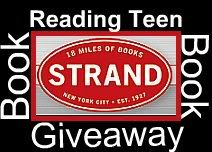 * Use our Strand Contest button to place on the sidebar of your blog for 4 (FOUR) EXTRA POINTS!!! Just comment in the TWEET BOX (FORM ABOVE) and say "+4 point sidebar button" show the link please :O)))
Good Luck :)

!!!!!!ENDS 12-1-2010!!!!!!
CONTEST IS CLOSED... WILL ANNOUNCE WINNERS SOON!!!
THANK-YOU FOR ALL YOUR HARD WORK!!!