So, as you may have noticed, Reading Teen has had somewhat of an identity crisis. We just can't decide who we are. So we need your help. We are trying to decide on a button and we want to know what you think! Here are your choices:
#1 The Star
What's good about the star is that it is easily recognizable and it's what we've had on our header since our creation almost one year ago. Plus, it's pretty.
or
#2 The Chess Pieces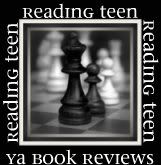 What's good about the Chess Pieces? We're sometimes known as "the blog with the chess pieces" so they're kind of like our mascot! Plus, it's pretty too.
Here's the new one.....based off of your recommendations!
#3 Red Chess Piece
Give us your feedback, and if you want, you can enter to win a book off our
Second Hand Saturday shelf!
! There are a gazillion books to choose from!!