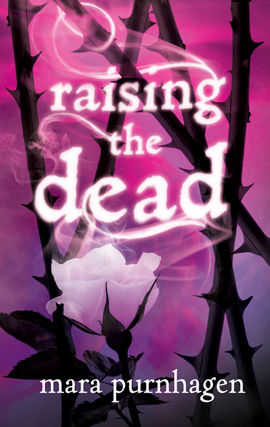 We're really excited about this deal! Mara Purnhagen's Past Midnight series is our
Reading Clean Spotlight Book
, and for the next couple of months her Novella,
RAISING THE DEAD
is available to download for FREE on
Harlequin Teen's website
!! I asked Mara if you have to have read Past Midnight to read this book, and she said no, that in fact, it may be a great introduction to the series for you. So, if you're wondering if you will like this series, go and
download this book
and check it out for yourself!
Charlotte Silver's world is like no one else's...As the daughter of the famous Silver Spirits paranormal investigators, Charlotte Silver is used to all things weird. But when coffins start floating down her street during a flood, life turns extra strange. And wonderful, when her friend and crush Noah signs on to help Charlotte and her folks in the aftermath. Cemetery cleanup might not sound exciting, but as shocking discoveries and a lurking stranger come to light, Charlotte learns that sometimes, raising the dead can bring unexpected rewards.
As you probably know, we are giving away the other two books in the series
here
. They are pretty creeptastic without totally scaring your pants off! Go now and download it because this offer is only available for a couple of months! I've already downloaded it and am going to start reading it tonight!
Enjoy!