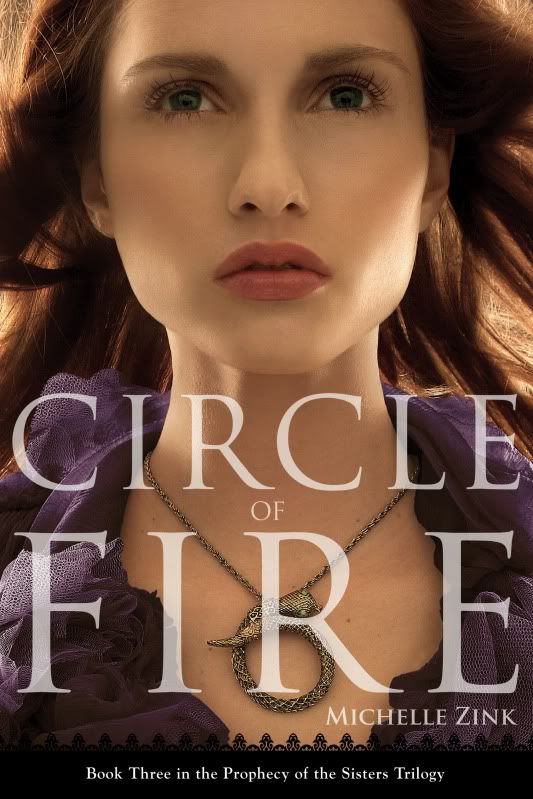 I'm really excited about this one!! I love, love, loved
Prophecy of the Sisters
, and I'll be doing a review on
Guardian of the Gate
very soon! If you haven't picked up this series yet, DO IT! It gives me the creeps! If you haven't read my review of Prophecy, you can find it
here
. It's actually more my thoughts while reading than it is an actual review, but I had fun with it! Here are the first two book:
I think the third book goes well with these. I do really like the original hardcover of Prophecy, too though. If you have the first cover, does that mean the other two don't match?
Isn't it just creepy? Well, I love them all, so congrats to Michelle!!
Circle of Fire
releases August 3. Here's the synopsis:
With time dwindling but her will to end the Prophecy stronger than ever, Lia sets out on a journey to find the remaining keys, locate the missing pages of the Prophecy, and convince her sister Alice to help--or risk her life trying. Lia has her beloved Dimitri by her side, but Alice has James, the man who once loved her sister--and maybe still does. James doesn't know the truth about either sister, or the prophecy that divides them. And Alice intends to keep it that way.

There are some secrets sisters aren't meant to share. Because when they do, it destroys them. This stunning conclusion to Michelle Zink's Prophecy of the Sisters trilogy will make saying good-bye bittersweet for readers.