Reading level: Young Adult
Hardcover: 320 pages
Publisher: Point (April 26, 2011)
Language: English
ISBN-10: 0545284104
ISBN-13: 978-0545284103
New from #1 New York Times bestselling author Meg Cabot, a dark, fantastical story about this world . . . and the underworld.




Though she tries returning to the life she knew before the accident, Pierce can't help but feel at once a part of this world, and apart from it. Yet she's never alone . . . because someone is always watching her. Escape from the realm of the dead is impossible when someone there wants you back.




But now she's moved to a new town. Maybe at her new school, she can start fresh. Maybe she can stop feeling so afraid.




Only she can't. Because even here, he finds her. That's how desperately he wants her back. She knows he's no guardian angel, and his dark world isn't exactly heaven, yet she can't stay away . . . especially since he always appears when she least expects it, but exactly when she needs him most.




But if she lets herself fall any further, she may just find herself back in the one place she most fears: the Underworld.
Well, I finally read a Meg Cabot book. Abandon is based on the Greek myth Persephone and Hades.
Pierce Oliveria drowns and finds herself face to face with John Hayden who is a Death Deity and in charge of the Underworld. John soon realizes who Pierce is and remembers meeting her when she was younger. Long story short.... He sends Pierce back and John gives her a gorgeous diamond to wear, he told Pierce is wards off evil. She remembers everything about the Underworld and of John Hayden, but everyone thinks she's crazy. It takes over half the book before Pierce has gathered all the evidence to prove what she truly knows about John Hayden. I found myself wanting to see what happens to Pierce, so I would say the book was somewhat intriguing. The character development of this book was not great. I also was disappointed that John wasn't around much in the book. He was mentioned very often, he just didn't make many appearances. I wish that weren't the case because he was my favorite character. I expected much more of a thrill ride in Abandon because of the story is was based on, sadly it fell short. Sometimes I would get confused while reading, because Pierce would repeatedly think about a certain incident and I found myself thinking... "Wait, hold on. What?", then realizing that incident hasn't been explained yet.
No, this book is not perfect. Yes, I think it has some flaws. But, the story is promising and I have a feeling the sequel will be better, now that the story has been set up. I know there is a sequel called
Underworld
. I will definitely read that one, maybe it has more of John Hayden in it, since he is in charge down there!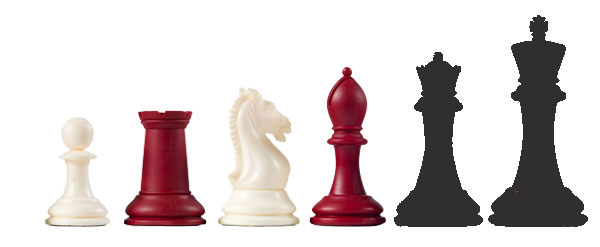 The fourth chess piece was for the beautiful cover!
Profanity: Mild
Sexual: Mild
Violence: Moderate