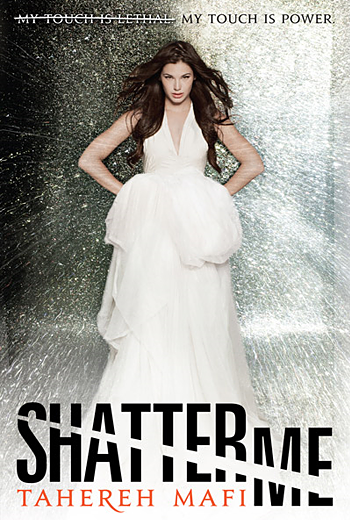 Reading level: Young Adult
Hardcover: 352 pages
Publisher: HarperTeen (November 15, 2011)
Language: English
ISBN-10: 0062085484
ISBN-13: 978-0062085481
Buy Shatter Me from Amazon



Juliette hasn't touched anyone in exactly 264 days. The last time she did, it was an accident, but The Reestablishment locked her up for murder. No one knows why Juliette's touch is fatal. As long as she doesn't hurt anyone else, no one really cares. The world is too busy crumbling to pieces to pay attention to a 17-year-old-girl. Diseases are destroying the population, food is hard to find, birds don't fly anymore, and the clouds are the wrong color.




The Reestablishment said their way was the only way to fix things, so they threw Juliette in a cell. Now so many people are dead that the survivors are whispering war- and The Reestablishment has changed its mind. Maybe Juliette is more than a tortured soul stuffed into a poisonous body. Maybe she's exactly what they need right now.




Juliette has to make a choice: Be a weapon. Or be a warrior.


In this electrifying debut, Tahereh Mafi presents a world as riveting asThe Hunger Games and a superhero story as thrilling as The X-Men. Full of pulse-pounding romance, intoxicating villainy, and high-stakes choices, Shatter Me is a fresh and original dystopian novel—with a paranormal twist—that will leave readers anxiously awaiting its sequel.
My thoughts:
First of all I must say that Tahereh Mafi is my new favorite author.
Ever.
Out of all of the books I have ever read, she is the best one.
Well, that is just my opinion. But I am pretty sure that once you read
Shatter Me
,
you might actually agree with me.
Which brings me to my second point: Shatter Me was the best book I have ever read.
Yes, I know. Some of you might find this kind of hard to believe since here lately
I have been loving every single book I pick up, but honestly I guess I have just been lucky.
The last couple of books I read before Shatter Me were yes, very very very good,
but Shatter Me devoured me. At some points my jaw was actually hanging open and I re-read some pages before I could fully grasp the amazingness that Tahereh Mafi
gave birth to on those pages.
(Graphic, yes. But you get the idea)
And don't even get me started on how well she developed the characters.
I could be writing this review forever, and well that doesn't exactly fit into my schedule.
So I think I rather stick to my plan of attacking people until they agree to read Shatter Me... Alright, well maybe I will say a little bit on what I thought of the characters.
Juliette is so kickbutt, UGH.
It made me feel like a huge wimp and yet at the same time I freaking loved it.
Oh my goodness. I can't even begin to describe how awesome Juliette is.
And ah, well then there is Adam.
I'm pretty sure Blogger will not be able to contain how much I love Adam.
Plus, I'm afraid all of you reading this might think I'm some freaky fan girl that might
make this into the next Twilight fad and have his name all of my clothes.
No.
Just no.
But to put it a nutshell: I love Adam Kent.
I think mostly because he reminds me of one of my best friends, so it makes the story
seem that a little bit more real (which I am aware it is completely impossible for it to be real but whatever), and yeah because Tahereh Mafi did a really great job of making him sound like the hottest man on Earth. Especially since he has full tattooed sleeves on each arm. (Yes I am one of those weirdo girls who find tattoos extremely attractive on a man)
Anyway, enough about Adam.
I'm SURE you'll get the full picture whenever you read Shatter Me.
Onward to the other characters:
Tahereh Mafi made each and every character perfect.
Even the characters that only said five words I could perfectly imagine
what they would look like.
Okay well I did exactly what I thought I would do and I got carried away with the characters...
But I have a great idea, IF you already own Shatter Me read it right now.
Just go read it.
If this review didn't convince you to read it, then I honestly don't know what else to say.
But I may or may not come attack you until you read it.
THANK-YOU Tahereh Mafi for writing my new favorite book!
Seriously, I will re-read it forever.
And I cannot even express how badly I want the sequel in my hands right now.
It keeps me up at night.
Thinking about the sequel.
PBR:
Profanity - Extreme
Violence - Heavy
Other - Moderate