Books:
Buy The Mark
|
Buy The Vision
---
Jen,
What kind of items would we be likely to find in a garage sale from your teenage years?
Since I still have my old dollhouse and things in my closet I bought in high school, we could probably hold this sale for real…

Vintage clothes. 50s prom dresses, taffeta skirts, bejeweled slippers from the 40s, plaid sportcoats. There is AWESOME stuff to be had at Goodwill. It didn't much matter if it was mens or ladies, a size 4 or 14. You can do a lot with safety pins and belts.



Price: negotiable. Except for the sportcoat. I'm still using that.


Shoulder pads. Because in the 80s, everything was better with shoulder pads. Except me. I am not small and looked like a linebacker.


Price: $1 each. These trends always come around again, you know…


Sports stuff. First baseman's mitt, soccer cleats, b-ball high tops and sweatbands, volleyball knee pads. I tried pretty much all the sports we had at school. Except field hockey - you had to start practice during summer vacation. That was too hardcore for me.


Price: $1 each. I'll throw in the sweatbands for free (hairspray residue included)


Black sleeveless Chanel coat dress. Never mind that I was 16 and had nowhere to wear this. It was on sale at work for $30 after my discount - I had to have it! Except I had no money. So, I borrowed it from my friend, security saw her hand me the money, thought I was giving her my discount and I almost got fired.


Price: Take it. Definitely more trouble than it was worth.


Walkman with mixed tapes. I didn't have the best recording equipment so sometimes the songs on my mixed tapes would be copied right from the radio, static included. I was a big fan of Yaz, New Order, OMD, the Psychedelic Furs…I could also sell you some concert pins and t- shirts. But not the signed ones.


Price: Are there still machines that play cassette tapes?


Jewelry and make-up. I liked this stuff a LOT more in high school than I do now. Silver bangles and those rubbery black Madonna ones, big necklaces, hoop earrings, funky/artsy stuff, crystals, crosses. Also, foundation, eye shadow, liners, mascara, blush…apparently, I knew how to use it back then. These days I can manage cover-up, mascara and sometimes a pair of earrings. Dealing with the rest is too complicated.


Price: $5 takes the whole lot of it.


EPCOT pins. My boyfriend at the time bought a little flag pin from each of the countries and wore them pinned to his jeans. It looked very cool and multi-cultural (a la Bennetton), so I totally copied him (he didn't go to my school & am not sure he even knew I did this).


Price: $5. Definitely the best deal of the bunch.
---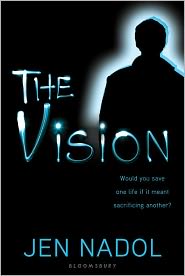 Cassie Renfield knows the mark tells her when someone is going to die and that she can intervene and attempt to change fate. But she still doesn't understand the consequences, especially whether saving one life dooms another. With no family left to offer guidance, Cassie goes in search of others like her. But when she meets Demetria, a troubled girl who seems to have the power of the Fates, Cassie finds the truth isn't at all what she expected. And then there's her heady new romance with bad boy Zander. Dating him has much graver repercussions than Cassie could ever have imagined, forcing her to make choices that cut to the essence of who she is and what she believes.
---
Make sure you follow the rest of this tour on
The Teen Book
Scene!