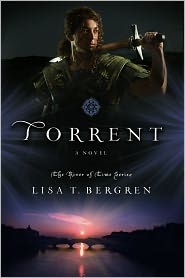 Reading level: Young Adult
Paperback: 400 pages
Publisher: David C. Cook; New edition (September 1, 2011)
Author's Website: http://lisatawnbergren.com/
Buy the Book: Amazon

"Hold tight," I said. "No matter what happens, do not let us go."
"We won't," my dad said.
"Never," Mom added.
And with a look at Lia, we laid our hands upon the prints.

Gabriella and Evangelia Betarrini are just two normal American teenagers. Normal except for the fact that they time travel to fourteenth-century Italy, where they've lived in castles they've seen as crumbling ruins, become swept up in historic battles, and fallen in love with handsome knights willing to do anything to keep them alive.

They've returned to the present to save their father, just short of his tragic death, and now all four return to the place that holds the girls' hearts, medieval Italy. But remaining there means facing great risk as the battle for territory wages on and the coming Black Plague looms. Can they convince their parents to stay and leave behind everything they've worked so hard to accomplish? And will the girls sacrifice their futures in an uncertain past? Or in facing death head-on, will they discover life as it was always meant to be lived?
Let me first start out by saying this: This is the third book in the River of Time trilogy, which means two things. First, if you haven't read the first two books, you should check out our reviews of
Waterfall
and
Cascade
. Second, if I made it to the third book, you know it has to be good. I don't have a lot of time to spend on a book series that isn't awesome, so you can be assured, this series is awesome!
I wondered, going into this book, what Lisa could possibly have in store for us. How could she keep this story interesting? How could she hold up to the high standard she herself set with the first two books? Well, I shouldn't have been worried, because Lisa is a wonderful story teller. She kept me on the edge of my seat this entire book, wondering how Gabi would escape or overcome each obstacle placed before her. This book is so action-packed and intense that at one point I felt out of breath. I kept thinking that if I were Gabi, I would just scream in exasperation. Like how much more could she possibly endure!
The love story takes a new turn with the amazingly hot and charming Lord Greco. Let me just say, that he stole my heart. He was just.....sigh......yes. I'm not really sure that it's fair that two amazingly rich, gorgeous, charming
Italian
men fall for Gabi, while I ended up with a guy from Arkansas (sorry, honey, just a joke, <3).
The thing I love most about this series is that there is this modern family placed in the middle of 14th century Italy. It's so intriguing to think about what would happen if I somehow landed in that time period. Would they think I was amazing, or would they think I was a heretic? Would they be in awe of me, or throw me in jail? Who knows how they would behave, but it was exciting to read about this possibility.
This series has everything I love in a book! Gorgeous setting, lots of action and adventure, an amazing family, an intense and well-developed romance, and a storyline that keeps you on the edge of your seat. If you haven't read it yet, what are you waiting for? If you need more proof, check out Mundie Moms review
here
, or Once Upon a Twilight's review
here
. Even though this is a trilogy, Lisa is hoping to write a fourth book, called Tributary (
read an excerpt
), and it looks like it will be from Lia's perspective! I'm so excited about this, and I love that Lia will be our voice this time. I hope Lord Greco gets some more face time! :D
Book Doppelgangers:
The Hourglass Door by Lisa Mangum, The Demon King by Cinda Williams Chima, Hourglass by Myra McEntire, Timeless by Alexandra Monir
Content:
Sexual Content: Moderate*
Profanity: None
Violence: Heavy
Other Notables: Some slight Christian overtones
For more details, check out
Torrent on Parental Book Reviews.