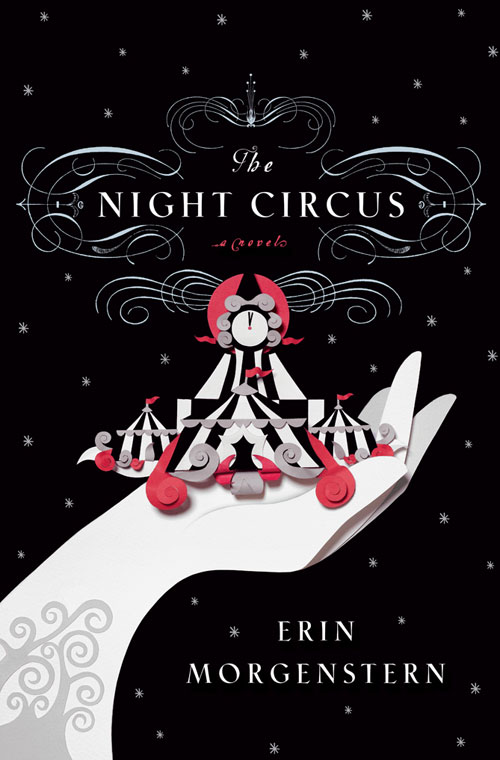 The circus arrives without warning. No announcements precede it. It is simply there, when yesterday it was not. Within the black-and-white striped canvas tents is an utterly unique experience full of breathtaking amazements. It is called Le Cirque des Rêves, and it is only open at night.

But behind the scenes, a fierce competition is underway—a duel between two young magicians, Celia and Marco, who have been trained since childhood expressly for this purpose by their mercurial instructors. Unbeknownst to them, this is a game in which only one can be left standing, and the circus is but the stage for a remarkable battle of imagination and will. Despite themselves, however, Celia and Marco tumble headfirst into love—a deep, magical love that makes the lights flicker and the room grow warm whenever they so much as brush hands.

True love or not, the game must play out, and the fates of everyone involved, from the cast of extraordinary circus per­formers to the patrons, hang in the balance, suspended as precariously as the daring acrobats overhead.

Written in rich, seductive prose, this spell-casting novel is a feast for the senses and the heart.
---
Audible Audio Edition
Listening Length: 13 hours and 39 minutes
Program Type: Audiobook
Version: Unabridged
Publisher: Random House Audio
Audible.com Release Date: September 13, 2011
Reader: Jim Dale
Buy the Audio: Audible | CDs
Jim Dale reads this audiobook. Do I need to say any more? Jim Dale is by far my favorite audiobook reader ever. There are many good readers, that can even have distinct voices for each character, but Jim Dale
becomes
each character. When he reads, it's as if there is a studio full of actors and actresses performing the book, not just one man. His voice brings this story to life, like no other can. I was so lost in his story telling that I almost felt like I was living in a dream while listening to The Night Circus. His voice is perfect for this book. He captures the magical, mystical, and fantastical feel that Erin Morgenstern must have wanted you to feel when she wrote this amazing book. If there was ever a book that I think you should get on audio (besides Harry Potter, which is also read by Jim Dale), it is this one. Trust me, you won't regret it! As soon as I finished it, I went back to the beginning, pushed play, and started this audio all over again.
---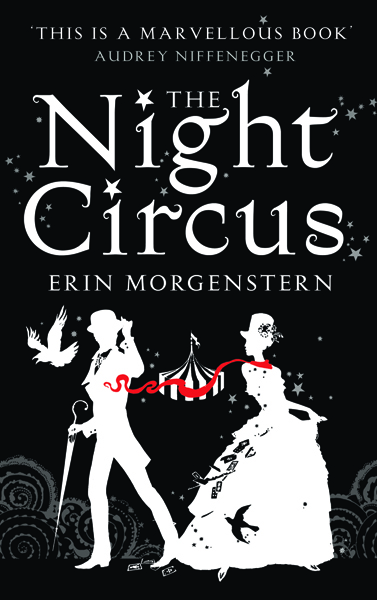 Hardcover: 400 pages
Publisher: Doubleday; First Edition edition (September 13, 2011)
Language: English
Buy the Book: Hardcover, Kindle
The Night Circus
by Erin Morgenstern
is
, in a word, Magical. I don't really ever read adult fiction. The only adult novel I've read in the last five years is
The Host
by Stephenie Meyer, but I heard such great things about this book that it caught my attention. Then, when I heard Jim Dale narrated the audio version, I was sold. I immediately went and downloaded it from
Audible.com
.
I was a little worried at first, because the pacing of this book isn't something I'm used to. It has a slower feel and more detailed writing than many of the "instant gratification" Young Adult books that I love so much (for that very reason). But, soon, I found myself almost captured by this book. I thought about it almost every moment of the day. If I wasn't listening to it, I was counting the minutes until I could get back to it again. I was talking about it with anyone I could find that had read it, or was reading it. I was telling anyone I spoke to that this should be the next book/audiobook on their list. It's just that good.
There is so much depth and foreshadowing in The Night Circus. I love when it's obvious that authors are very intelligent, and that they have taken the time, effort, and energy to plan out their story in advance, leaving hints, puzzles, and clues for us to find along the way. There was so much depth to each of the characters as well. I don't think I've ever felt so closely connected to so many different characters in a book before. I loved them all, even when I was hating them. I mean even Celia's father, who sliced open her fingertips, just to make her heal them, found some way to be endearing to me. I hated him, loved him, felt sorry for him, and felt vindicated when he found himself in over his head. How is it possible to feel so many things for a character? I think my favorite characters were the twins, Poppet and Widget (may be spelled wrong, as I
listened
to the book), born on the night the circus opened, and full of surprises, mysteries, and wisdom beyond their years.
The romance in The Night Circus is breathtaking. Celia and Marco have been raised and trained to be competitors on opposite sides of a magical battle of skills. But instead of wanting to win, they find themselves being in awe of the other's skill, wanting to impress each other, and eventually falling in love. Their love grows over many, many years, though they age so slowly (thanks to a bit of magic) that they are still young lovers when they find each other. It was heartbreaking to see them fall in love, and know that in the end, only one of them could win. Especially when the stakes are so high.
The Night Circus is a beautifully written, masterfully crafted book, full of mystery, suspense, heartbreak, love, hope and beauty. Erin Morgenstern's imagination comes to life through her words, and makes you feel like you are actually walking through the circus, seeing the magical displays of Celia and Marco yourself. It makes you long for a real circus like this, so that you can be a part of the magic yourself.
Check Mate!
Content:


Sexual Content: Mild/Heavy*
Profanity: One heavy word
Violence: Moderate
Other Notables: Magic

For more details, check out The Night Circus on Parental Book Reviews.