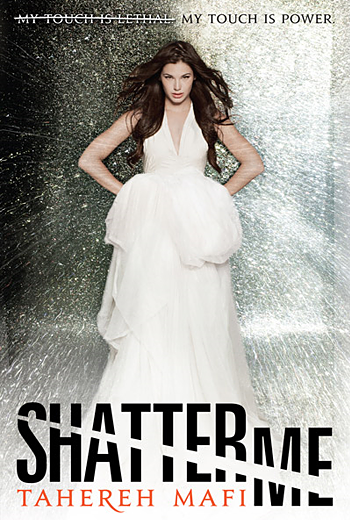 Juliette hasn't touched anyone in exactly 264 days.

The last time she did, it was an accident, but The Reestablishment locked her up for murder. No one knows why Juliette's touch is fatal. As long as she doesn't hurt anyone else, no one really cares. The world is too busy crumbling to pieces to pay attention to a 17-year-old girl. Diseases are destroying the population, food is hard to find, birds don't fly anymore, and the clouds are the wrong color.

The Reestablishment said their way was the only way to fix things, so they threw Juliette in a cell. Now so many people are dead that the survivors are whispering war-- and The Reestablishment has changed its mind. Maybe Juliette is more than a tortured soul stuffed into a poisonous body. Maybe she's exactly what they need right now.

Juliette has to make a choice: Be a weapon. Or be a warrior.
---
Audible Audio Edition
Listening Length: 9 hours and 12 minutes
Program Type: Audiobook
Version: Unabridged
Publisher: Harper Audio
Audible.com Release Date: November 15, 2011
Buy the audio: Audible
Wow, wow, wow. Wow, wow, wow, wow, wow.
WOW!!! I'm not quite sure that I've ever had SUCH an
insane
emotional response to an audiobook before. This audio was intense! If you've seen the book, you'll notice that while "Juliette" is telling this story, she will write down her initial thoughts, then cross them out and rewrite them. I was worried about how this would translate on audio, but Harper Audio did an amazing job! The
reader
performer, Kate Simses does a fantastic job portraying Juliette. You can tell that she is really feeling what she's reading. It was SO incredibly
heartbreaking
intense
emotional! Then when she would pour her heart out, you could hear her scratch out her thoughts, and replace them with others. Kate's voice was perfect for a 17-year-old girl. I'm so glad she doesn't sound like a 40-year-old woman. She also does a fantastic job with the guys' voices. Each voice she does is distinct, and recognizable. I don't have a single complaint. She really made me feel what Juliet was going through, and I'm so glad that I decided to
read
listen to this book. I can't recommend it enough!
Not sure if you'll like it?
Check out a clip of the audio
here
!
---
Reading level: Ages 14 and up
Hardcover: 352 pages
Publisher: HarperCollins (November 15, 2011)
Language: English
Buy the Book: Amazon
I hadn't planned on reading Shatter Me. Abigaile already reviewed it for the blog, and I don't read a lot of what we've already reviewed (for obvious reasons). But after
Abigaile's amazingly positive review
followed by the constant praise on Twitter and other blogs, I decided I needed to see what all the hype was about. I was COMPLETELY blown away.
As in many other books, the story in Shatter Me is good. The characters are interesting and loveable/hateable. The mystery of what is actually going on, keeps you engaged and turning the pages, wondering what will happen next. There are plot twists and turns, and many things you don't see coming. I liked Juliette, though at times she was frustrating. It's hard for me to read about a girl who can be....mousey at times. But if you think about what her life has been like, you realize that she is absolutely what she should be. Adam is just.....yes. I've definitely added him to my list of top YA guys. DEFINITELY! I loved to hate Warner. He's the perfect villain, filled with evil, but also a complexity that makes you question why he is the way he is. I loved it all.
In the hands of any other author, this book would be great. I would love it. It would go on the list of all the other great books I've read this year, enjoyed, then put away. But in the hands of Tahereh Mafi, this story transcends anything in it's genre. I have never in my life been moved by the words of an author the way that Tahereh moved me with the beautifully crafted sentences that she created to tell this story. This girl can write. Her words are dripping with imagery and symbolism. She takes a simple act, like riding in an elevator, or walking down the hall, or kissing a boy :) and turns it into something you feel with every fiber of your being. The simple romance in Shatter Me is transformed into a tension that breaks your heart, catches your breath, and make your head spin. It's simply intoxicating.
If you haven't had the chance to immerse yourself in the beautiful writing of Tahereh Mafi, you don't know what you're missing.
Make sure you check out our review with Tahereh
here
!
Wondering if you'll like the writing style? Read the first chapter
here
!
Book Doppelgangers:
Wither by Lauren DeStephano, Delirium by Lauren Oliver, Legend by Marie Lu
YES! YES, A THOUSAND TIMES, YES!
I'm going to have to go with AUDIO!
Sexual Content: Heavy sexual tension
Profanity: Heavy
Violence: Moderate