March's Book: A Great and Terrible Beauty by Libba Bray
March's Host: Beverly @ Booklady's Booknotes
March's Posts:
Vote for April's book here
Suggest a book
here
---
As many of you are probably aware, a bunch of us started a book club to read FORBIDDEN by Tabitha Suzuma together. We had so much fun doing this book club, that we decided to keep it going!! Every month we will pick a
new book
to read and a
new blog
to host.
You do not have to host in order to participate!!
Each blog that hosts can conduct the book club however they want.
I split the book up into 5 chapters, twice a week, and wrote posts about those chapters on Mondays and Thursdays. Then we had 2 live chats, one in the middle of the book, and one at the end. But this is only a suggestion.
We will vote each month on the next month's book
. And you can feel free to participate one month, and not the next, if you choose.
We decided to keep the name "
Forbidden Book Club
" to honor our first book, and.....we just liked the sound of it! Maybe it's our mischievous side!
You can vote on next month's book, or sign up to host below!
If you would like to get emails
reminding you of book club times and chapters, sign up here:
I will keep this page updated with the new polls, and the sign up sheet for new members!
I'm really excited about this!! I had SO much fun reading and discussing our first book together! Follow The Forbidden Book Club on Twitter using the hashtag
#ForbiddenBookClub
. Find all my Book Club posts
here
.
The Forbidden Book Club was started by
Reading Teen
,
Once Upon a Twilight
,
Katie's Book Blog
, and
Books Over Boys
.
---
Grab a Book Club Button!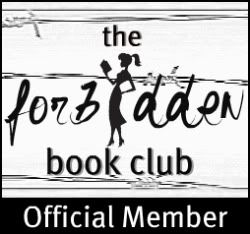 <div class="separator" style="clear: both; text-align: center;">
<a href="http://readingteen.net/" target="_blank"><img border="0" height="164" src="http://1.bp.blogspot.com/-8DNLtxspUvU/TvUfwiHenaI/AAAAAAAABYI/kZCX7RkorMk/s640/The+Forbidden+Book+Club+Banner.jpg" width="580" /></a></div>
<div class="separator" style="clear: both; text-align: center;">
</div>
More buttons:
---
---
---