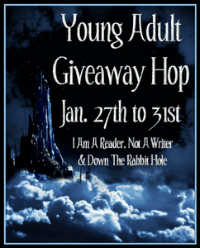 ---
Welcome to the Young Adult Giveaway Hop.
Thanks to Amber from
Down the Rabbit Hole
and Kathy from
I Am a Reader, Not a Writer
for co-hosting.
Dates for this hop are January 27th to 31st. Over 200 blogs are each hosting a giveaway for a young adult book.
UPDATE!! I've had people ask, so if you are INTERNATIONAL and want to pay shipping, you may enter! (If you win and only want one of the books, to keep shipping down, that's fine too) :D
Because we are freaking awesome (or because we have an unhealthy desire to buy your love), we're giving away FOUR books, one of which may actually make you scream.....feel free to thank us (or beg) in the comment! :P
---
ARC of Bitterblue by Kristin Cashore
Eight years after Graceling, Bitterblue is now queen of Monsea. But the influence of her father, a violent psychopath with mind-altering abilities, lives on. Her advisors, who have run things since Leck died, believe in a forward-thinking plan: Pardon all who committed terrible acts under Leck's reign, and forget anything bad ever happened. But when Bitterblue begins sneaking outside the castle—disguised and alone—to walk the streets of her own city, she starts realizing that the kingdom has been under the thirty-five-year spell of a madman, and the only way to move forward is to revisit the past. Two thieves, who only steal what has already been stolen, change her life forever. They hold a key to the truth of Leck's reign. And one of them, with an extreme skill called a Grace that he hasn't yet identified, holds a key to her heart.
---
ARC of Article 5 by Kristen Simmons
New York, Los Angeles, and Washington, D.C., have been abandoned.

The Bill of Rights has been revoked, and replaced with the Moral Statutes.

There are no more police—instead, there are soldiers. There are no more fines for bad behavior—instead, there are arrests, trials, and maybe worse. People who get arrested usually don't come back.

Seventeen-year-old Ember Miller is old enough to remember that things weren't always this way. Living with her rebellious single mother, it's hard for her to forget that people weren't always arrested for reading the wrong books or staying out after dark. It's hard to forget that life in the United States used to be different.
---
Fierce, seductive mermaid Syrenka falls in love with Ezra, a young naturalist. When she abandons her life underwater for a chance at happiness on land, she is unaware that this decision comes with horrific and deadly consequences. Almost one hundred forty years later, seventeen-year-old Hester meets a mysterious stranger named Ezra and feels overwhelmingly, inexplicably drawn to him. For generations, love has resulted in death for the women in her family. Is it an undiagnosed genetic defect . . . or a curse? With Ezra's help, Hester investigates her family's strange, sad history. The answers she seeks are waiting in the graveyard, the crypt, and at the bottom of the ocean—but powerful forces will do anything to keep her from uncovering her connection to Syrenka and to the tragedy of so long ago.
---
Finished Copy of How to Save a Live by Sarah Zarr
Jill MacSweeny just wishes everything could go back to normal. But ever since her dad died, she's been isolating herself from her boyfriend, her best friends--everyone who wants to support her. And when her mom decides to adopt a baby, it feels like she's somehow trying to replace a lost family member with a new one.

Mandy Kalinowski understands what it's like to grow up unwanted--to be raised by a mother who never intended to have a child. So when Mandy becomes pregnant, one thing she's sure of is that she wants a better life for her baby. It's harder to be sure of herself. Will she ever find someone to care for her, too?

As their worlds change around them, Jill and Mandy must learn to both let go and hold on, and that nothing is as easy--or as difficult--as it seems.
---
Enter Here!
a Rafflecopter giveaway
---
Continue Hopping Here!