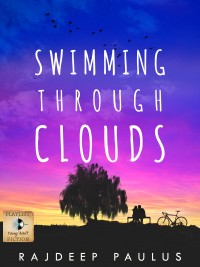 "Post-its. Turn Her World Up-Side-Love!" by Rajdeep Paulus
"I live in the in between. Between what if and what is. It's how I manage. It's the only way I know. Everyone has their way. This is mine." When high school cell phone disruption forces a classroom ban, the words on a Post-it note spark a sticky romance between two unlikely friends. Transfer student Talia Vanderbilt has one goal at her new school: to blend in with the walls. Lagan Desai, basketball captain and mathlete, would do just about anything to befriend the new girl. One Post-it note at a time, Lagan persuades Talia to peel back her heart, slowly revealing her treasure chest of pain—an absent mother, a bedridden brother, and an abusive father. In a world where hurt is inevitable, the two teens search for a safe place to weather the storms of life. Together.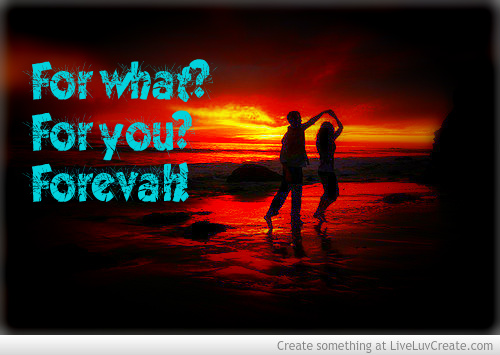 ***
Swimming Through Clouds
, by
Rajdeep Paulus
, is her debut YA Novel, and she's thrilled to pieces to share it with you! BUT, you might ask, why Post-its?
Rajdeep Here:
For the record, I was never pursued by a guy who dropped off Post-its here and there and every where. I did, however, once answer the doorbell, find a card on the porch, and the card [which had a cow ringing the doorbell and running to hide behind a bush - A Far Side comic if I recall correctly] instructed me to check my car. When I did, I found a single, red rose on my windshield, the placer of the card and flower nowhere in sight.
Married that guy!
Once I figured out who it was! hehe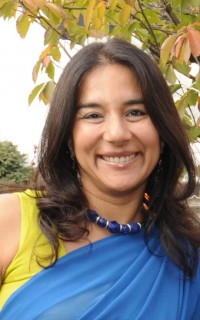 BIO:
Rajdeep decided to be a writer during her junior year in high school after her English teacher gave her an "F" but told her she had potential. She studied English Literature at Northwestern University, and she writes masala-marinated, Young Adult Fiction, blogging weekly at InSearchofWaterfalls dot com.
Website
Twitter
Facebook
Instagram
Goodreads
Pinterest
Amazon Author Page
AND for your YA Fiction Fix, Please allow me to introduce the
Playlist Fiction Team
of Indie YA Authors!
Laura Kurk

,

Laura Smith

,

Jennifer Murgia

and

Stephanie Morrill
and I have been Playlist Sistahs since April 2013! Playlist Fiction is a YA Ebook Line that offers new YA Ebooks, Special Offers and/or Giveaways Each and Every Month! We like to invite our readers to Download the Drama! So whatcha waiting for! Grab your beach bag! Load up your E-reader and get your Summer YA Read On!
RaffleCopter GIVEAWAY for a Copy of
Swimming Through Clouds
below! Just leave a comment and find me on Twitter or Instagram for multiple chances to win!