penned by elisa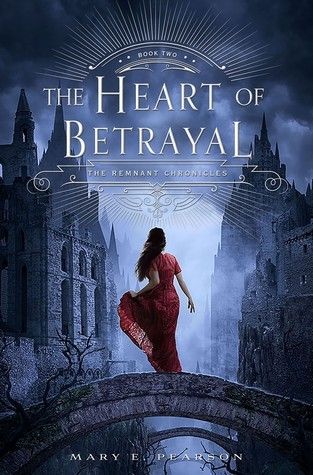 THE HEART OF BETRAYAL
The Remnant Chronicles #2
by Mary E. Pearson
Hardcover: 470 pages
Publisher: Henry Holt (July 7, 2015)
Language: English
Goodreads | Amazon
Intrigue abounds in this hotly anticipated sequel to

The Kiss of Deception

!





Held captive in the barbarian kingdom of Venda, Lia and Rafe have little chance of escape. Desperate to save her life, Lia's erstwhile assassin, Kaden, has told the Vendan Komizar that she has the gift, and the Komizar's interest in Lia is greater than anyone could have foreseen.





Meanwhile, nothing is straightforward: there's Rafe, who lied to Lia, but has sacrificed his freedom to protect her; Kaden, who meant to assassinate her but has now saved her life; and the Vendans, whom Lia always believed to be barbarians. Now that she lives amongst them, however, she realizes that may be far from the truth. Wrestling with her upbringing, her gift, and her sense of self, Lia must make powerful choices that will affect her country... and her own destiny.
I am excited to announce that the sequel to
The Kiss of Deception
rocks. In fact, I liked it even more than the first book in the Remnant Chronicles (if that is possible). My love was different though, more deep-rooted. There might not have been some spectacular deception aimed at us misguided readers that Mary E. Pearson planted (like in the last book), but our heroine did her fair share of acting and lying for survival in
The Heart of Betrayal
too. Intrigue, playing the enemy, provoking romance, standing-up for the oppressed, and embracing identity were all elements in this spectacular high fantasy novel.
Now if you haven't read
Kiss of Deception
yet, just pause to check out
my post
on this book, which just
must
be so profound and important considering I compared this story to one of my favorite Starbucks drinks.
As lists are so much easier to read (and write), I'll break it down for you like this. I loved:
Ah, Kaden, I am in love with you. I just am and I can't help it. I don't even care than you are a misguided assassin. You're just trying to be a good guy helping your country and were unfortunately rejected as a child. I get that. I forgive you. I will marry you (except you are fictional and I am already married).

I was impressed with how much she grew up and became so much smarter in this book. I even compared her to Kestral in

Winner's Crime

(to Andye's horror, as she is determined to believe in Lia's idiodicy). Lia was simply naive before--in

The Heart of Betrayal

she rises to the occasion.

The people and clans of Venda:

I can see why Lia loves them too, as they twine around our hearts.

With a mysterious vibe, she had me guessing the whole time.

Brave and lighthearted, they were.

Every good book needs intertwining tunnels to who-knows-where.

I feel so conflicted with what Lia should do. Essentially, she has three kingdoms whose future is directly and accidentally (or is it fate?) fallen into her hands. At first Lia is just thinking in all capital letters S.U.R.V.I.V.A.L., but at some point her concern switches to being beyond herself, as she recognizes that her survival and her choices shake the world. No pressure or anything, Lia.

The prophecy and spiritual implications the Gift and the weird ghosts of Venda add to the story, tying things together.

The city of Venda and surrounding territory was pretty cool. I wish I had a map to go with it, as my mind attempts to retain a 3D version.
Here is the flipside of what I didn't love:
I know I should like him, our Lia, after all, thinks she loves him. Although I remember liking him so much in

The Kiss of Deception

, there is nothing except his basic goodness to be a draw this time. No depth added, no real character development, in fact, he seems a tad stupid.

The Heart of Betrayal

doesn't make me fall-in-love with Rafe all over again.

His intelligence, power, closeness, and all-around evilness makes me cringe. Let's all cringe together!

The book is better while being familiar with the first:

Although I think you could read this without touching

The Kiss of Deception

(unlike many sequels), I kinda feel like I would have gotten more out of it if I had

just

finished

The Kiss of Deception

, rather than reading the first book in the series more than a year ago.

The drastic back-and-forth schizophrenia between Rafe and Lia:

One minute they are snogging, the next they act as though they hate each other. The fact I don't really like Rafe makes all this play acting miserable to watch.

Also evil. I know that life is tough in Venda and there are "no children" where death is everyday and survival is life's goal, but whether it is children having to steal to eat or are manipulated to believe their leader's war is the only hope, it breaks my heart. It just reminds me that children can't be children over the majority of our globe.
Well, I did get a tweet from the author herself when reading this, which made me feel super special:
But mostly, the end of
The Heart of Betrayal
rocked. I figured that something like what did happen, would. But there were so few pages left, I just couldn't figure out how Pearson could manage concluding the book!
She did it with a snap and a slice, thrilling, dripping, and full of suspense. I am so excited to read the next book in the series and I hope this tickled your readers fancy to pick it up as well! Enjoy!
She also dabbles in fiction hidden amongst others occasionally at
www.LesNomsDePlume.com
.
She also really needs a new picture, because she hasn't had red hair in like, forever.